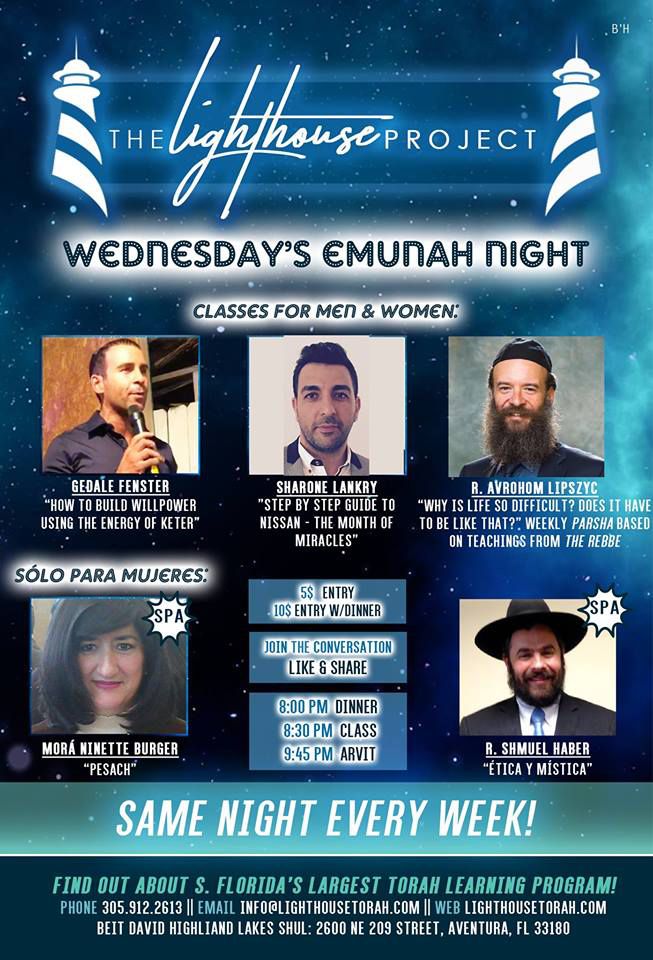 18 Dates · Dec 20, 2017 - Apr 25, 2018 · EST
The Lighthouse Torah Project is back again! This Wed night we'll be having 5 awesome classes to choose from!
Please take a moment and consider sponsoring one of our classes or the whole night of learning in honor/memory of a loved one. You will have a flyer in the classroom with the name of the person to whom the learning is dedicated, the teacher will say it aloud before the lecture starts.
All Classes will broadcasted live on Facebook, SoundCloud and YouTube in their merit
Please let us know so we can put your information in before the class! Tizku le mitzvot!
Schedule:
DINNER 8pm
CLASSES START 8:30 pm
ARVIT 9:45 pm
ADMISSION
5$ entry
10$ entry w/catered dinner included
CLASSES FOR MEN & WOMEN
1- Gedale Fenster: Rabbi Nachman's Teachings. In the Main Sanctuary.
2- Sharone Lankry: Kabbalah and Spirituality. In the Party Hall.
3- Rabbi Avrohom Lipszyc: Weekly Torah Portion based on Teachings from The Rebbe. In the Beit Midrash.
4- Rabbi Shmuel Haber: "Ethics & Mystics" (Singles 40+). In Classroom 1.
SÓLO PARA MUJERES
5- Morá Ninette Burger: EN ESPAÑOL. In classroom 1.
Be a part of the program that is changing people's lives!